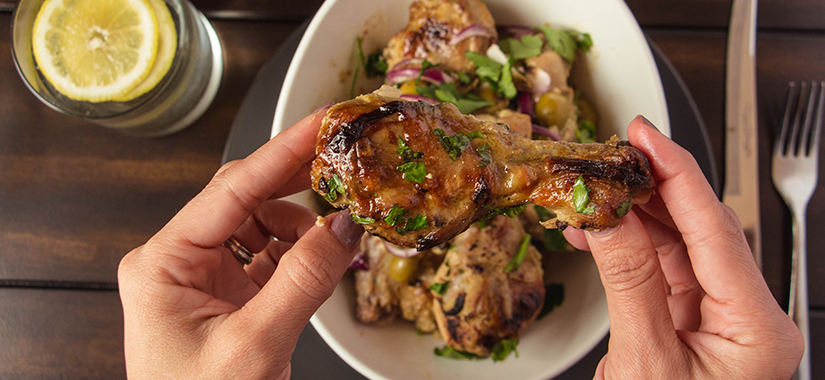 Servings 4
Preparation 60 minutes
Cooking time 60 minutes
Calories 0
Difficulty easy
From the pantry to your plate
The most successful meals depend entirely on the quality of the ingredients selected. In addition to offering you the best products on the market, Alimentation Garde-Manger is now proud to present a series of original recipes that are guaranteed to impress your guests.
Feel like travelling this week? We suggest this classic West African dish from Senegal. Though many different versions of Yassa chicken exist, Alimentation Garde-Manger has come up with a fast and easy way to prepare this recipe using our chicken drumsticks.
Chef's tip:
For authentic Yassa chicken, our chef suggests adding ground berbere, a mix of Ethiopian spices made from coriander seeds, sumac, paprika and cardamom. You can find this spice mix in some specialty grocery stores.
Ingredients
3 pkg chicken drumsticks

2 red onions, finely chopped

1 cup Manzanilla olives

Salt & pepper to taste

3 tbsp olive oil

3 garlic cloves, finely chopped

1/2 cup Dijon mustard

2 cups chicken broth

Chopped parsley to taste

1 lemon
Preparation
In a bowl, mix the chicken drumsticks with the olive oil, salt and pepper, Dijon mustard, garlic, olives, and minced onions.
Refrigerate and marinate for one hour.
Sear the chicken drumsticks in a non-stick frying pan over medium heat.
Add the rest of the marinade and the chicken broth to the pan.
Cover and simmer over medium heat for one hour.
Garnish the dish with the chopped parsley and a few lemon slices.
Adjust the seasoning and enjoy!
Recipes you'll also like...