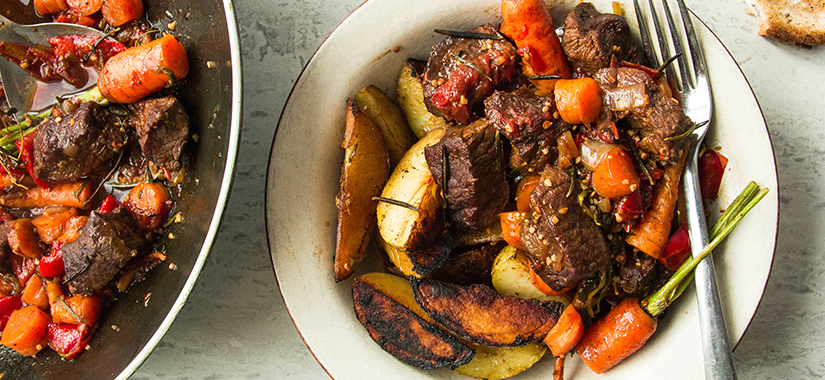 Servings 4
Preparation 0 minute
Cooking time 90 minutes
Calories 0
Difficulty easy
From the pantry to your plate
The most successful meals depend entirely on the quality of the ingredients selected. In addition to offering you the best products on the market, Alimentation Garde-Manger is now proud to present a series of original recipes that are guaranteed to impress your guests.
It's stew season! Though our beef roast is excellent grilled on the BBQ, it is just as delicious braised in the oven during the colder months. This recipe is perfect for those winter Sunday dinners as a family.
Chef's tip:
In this recipe, the beef is cut into pieces. However, you can prepare this recipe with the whole steaks simply by cooking them a bit longer. Our 227 gr. portions are perfect for the hungry ones!
Ingredients
4 beef roast steaks

1 onion

2 garlic cloves

1 1/2 red peppers

2 carrots

1 tomato

3 sprigs thyme

3 sprigs rosemary

2 sprigs parsley

50 grams butter

2 tbsp olive oil

3/4 cup red wine

3 cups beef broth

Salt & pepper to taste
Preparation
Cut the beef into pieces, season with salt and pepper, and sear them in the butter and oil in a saucepan over high heat.
Transfer the meat to a plate.
Roughly chop the onion, garlic, pepper, carrots and tomato and sauté them in the same saucepan.
Deglaze with the red wine, add the beef broth and the herbs.
Return the beef to the saucepan, reduce heat to low and simmer, covered, for 1hr30.
Adjust the seasoning and enjoy!
Recipes you'll also like...