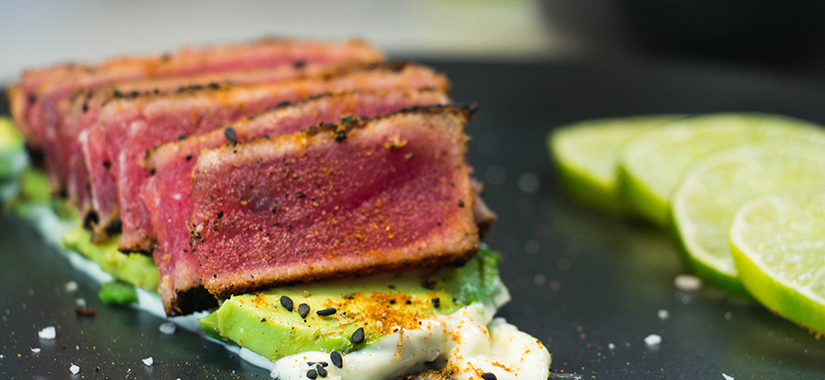 Servings 4
Preparation 0 minute
Calories 0
Difficulty easy
From the pantry to your plate
The most successful meals depend entirely on the quality of the ingredients selected. In addition to offering you the best products on the market, Alimentation Garde-Manger is now proud to present a series of original recipes that are guaranteed to impress your guests.
There's nothing fresher and easier to prepare than tuna tataki! Alimentation Garde-Manger presents its unique twist on the classic Japanese recipe. Tuna tataki is perfect for garnishing your salads and power bowls, or as an appetizer to impress your guests
Chef's tip:
For best results, it is very important to dry your tuna before seasoning it with the Cajun spice mix. Don't be afraid to let the oil smoke, as it must be good and hot before adding the tuna. Cooking time is very short; in just 30 seconds, it's cooked to perfection. Let the tuna rest for a few minutes and use a sharp knife to slice it!
Ingredients
1/2 cup mayonnaise

Heaping 1/4 cup fresh cilantro

1/4 cup lime juice

1 tsp cumin

4 tuna steaks

1/4 cup Cajun spices

3 tbsp vegetable oil

Salt & pepper to taste
Preparation
In a food processor, combine the mayonnaise, cilantro, lime juice and cumin. Season and refrigerate.
Sprinkle all sides of the tuna with the Cajun spices.
Heat the vegetable oil in a non-stick frying pan over high heat.
Once the oil begins to smoke slightly, add the tuna steaks and sear for 30 seconds on each side.
Thinly slice the tuna and serve with a salad, rice, or your favourite side!
Recipes you'll also like...