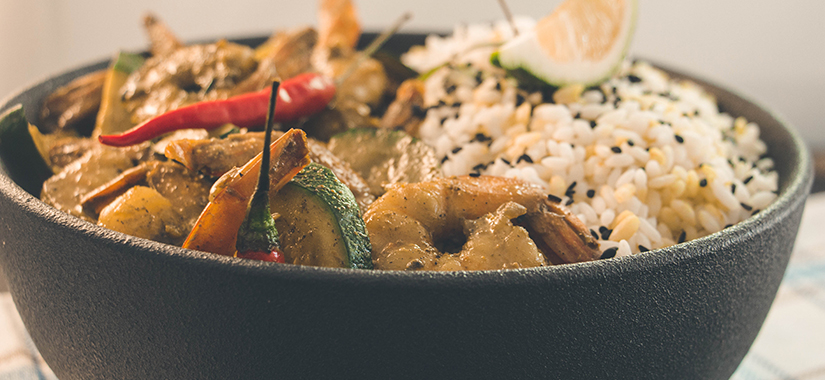 Servings 4
Preparation 0 minute
Cooking time 10 minutes
Calories 0
Difficulty easy
From the pantry to your plate
The most successful meals depend entirely on the quality of the ingredients selected. In addition to offering you the best products on the market, Alimentation Garde-Manger is now proud to present a series of original recipes that are guaranteed to impress your guests.
Craving a meal that's high in protein and bursting with flavours, but don't have much time to cook? This Thai-inspired shrimp dish only takes 15 minutes to prepare! Our 16/20 shrimp are perfect for this delectable dish.
Chef's tip:
For the perfect sauce consistency, be sure to thaw and drain the shrimp well. If you add frozen shrimp during the cooking process, your sauce will likely be much more liquid.
Ingredients
1 bag 16/20 shrimp

1/2 of one red onion

1 tsp fresh ginger

2 garlic cloves

1 zucchini

2 tbsp olive oil

3/4 cup coconut milk

2 tsp curry powder

Juice of ½ a lime

Cilantro & mint

Salt & pepper
Preparation
Cut the onion and zucchini into slices.
Finely chop the ginger and garlic.
In a deep pan over medium heat, sauté the vegetables in the olive oil.
Add the curry powder, coconut milk, salt & pepper. Cook for approximately
5 minutes.
Add the shrimp to the pan and cook for an additional 5 minutes.
Add the lime juice, cilantro and mint to taste.
For a spicier dish, you can also add Thai peppers.
Recipes you'll also like...